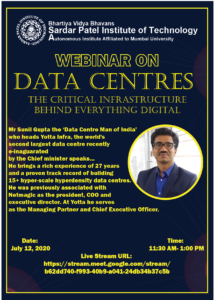 With the pandemic fast-tracking the digital transformation efforts across enterprises and mass transition to remote working, Canalys Global reported that cloud spends were at a record high in Q1-2020, up 34% during the time. As enterprises increase their dependency on cloud services, and as India becomes increasingly digital, shifting speedily to web collaboration, e-commerce, e-payments, emerging technologies like AI, ML, IoT, Robotics, connected cars, and as 5G adoption permeates, the resultant growth in generated data is humongous and requires a massive buildout of evolved data processing and storage facilities i.e. data centers. Initiatives under the Digital India campaign are further accelerating the growth in India's data center industry.
Yotta Infrastructure, a Hiranandani Group subsidiary and a Managed Data Centre Service Provider developing hyper-scale data centre parks in India, today (7-7-2020) inaugurated India's largest data center building, Yotta NM1, in a virtual event. It is the largest Tier IV Data Center certified by Uptime Institute in Asia and second largest in the world.
Yotta NM1 Data Center is located in the 600-acre Hiranandani Fortune City in Panvel. Yotta NM1 is first of the five data center buildings coming up at this Integrated Yotta Data Center Park, which, once fully built, will have an overall capacity of 30,000 racks and 250 MW power. At 820,000 sq. ft, 7,200 racks, 50 MW of power and 4 redundant self-owned fiber paths connecting the DC to national highways, the first DC Yotta NM1 itself offers a highly scalable data centre infrastructure, capable of hosting global cloud, content and OTT operators besides the mission-critical applications of enterprises and governments.
The man behind this mammoth effort is Shri. Sunil Gupta.