1. Hands-on Session "Windows Forensics" by Mr. Anand Kanani, Technical Solution Architect, Cisco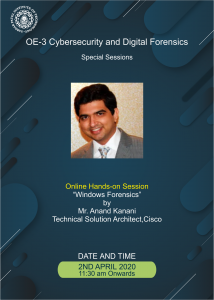 Currently Anand is working as Technical Solutions Architect with the Enterprise Networking (EN) Sales at Cisco. He currently focuses on the Software Defined Campus Networks and and is a part of the World-Wide Incubation Team of Cisco Enterprise Networking Sales Specialists. Anand has been with Cisco for 12 years. In the past, he has worked in various customer facing roles with Consulting Services, Pre-Sales and Engineering. In terms of the segments, he has worked with well-known Service Providers, Large Enterprises and even SMB customers. He has vast experience with all of the Cisco Security portfolio – in Network Security, Endpoint Security and Forensics, Content Security. His technical interests include evangelizing New Technologies, Network Security and Security Architecture Best Practices, Coding Automation Tools, playing and hosting Capture the Flag (CTFs).
Date and Time: Thursday, 2nd April 2020, 11.30 am to 13.00 pm
Online Platform: Cisco Webex
2. Cyber Insurance Product by Mr. Prathmesh Nivalkar, Incoming Associate – Cyber Security at PwC India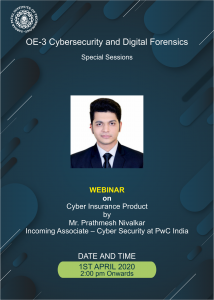 I would be presenting a lecture on Cyber for Financial Institutions, wherein I would be talking about the recent cyber breaches and the trends seen lately. Also, I would be touching upon the topics such as regulations set up by the government, present insurance coverages, and the prevalent excluded areas that need to explored/addressed by the cyber insurance products available in the Indian Market.
Date and Time: Wednesday, 1st April, 2020. at 2.00 pm
Online Platform: Zoom